Attorney, Equity partner
Tel.: +385 51 215-010
Fax.: +385 51 215-030
E-mail: manovelo@macesic.hr
vCard download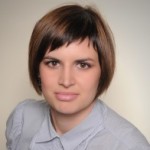 Ivana Manovelo (1982.) has a long-standing experience in consulting and representing clients mainly in the areas of energy, commercial law, M&A, banking and finance and capital markets. She represents clients in disputes before courts, mainly in disputes with an international element, as well as in arbitration proceedings, liquidations, bankruptcies and restructuring proceedings. She is a licenced trademark attorney registered at the State Intellectual Property Office. A team leader in complex M&A, energy projects and cross-border financing projects, she advises international and domestic leading financial institutions, multinational energy companies and foreign investors.
EDUCATION:
Graduated at the University of Rijeka Faculty of Law (2006)
Passed the Bar exam (2008)
Admitted to Croatian Bar Association (2010)
LANGUAGES:
English (Authorized Court Interpreter for English Language), Italian
PUBLICATIONS:
Author and co-author of numerous articles in the areas of energy law, dispute resolution, arbitration, commercial law and M&A, published in leading international publications: International Law Office – Energy & Natural Resources Newsletter, International Financial Law Review, Getting the Deal Through (Electricity Regulation, Gas Regulation, Oil Regulation), Lawyer Monthly Magazine, The Lawyer, International Comparative Legal Guide (International Arbitration and Litigation & Dispute Resolution), Global Legal Insights – Energy, CEE Legal Matters. She regularly contributes to the World Bank's project Doing Business (Report on business conditions in almost all countries of the world) and to the project Rule of Law Index of organization World Justice Project (annual researches of the rule of law).
AWARDS:
Winner of Client Choice Award 2016, 2017 and 2019 (Energy & Natural Resources)
MEMBERSHIPS:
Croatian Bar Association (CBA), International Bar Association (IBA)