Attorney, Equity partner
Tel.: +385 1 457-6794
Fax.: +385 1 457-6795
E-mail: mimacesic@macesic.hr
vCard download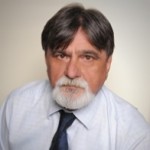 Miroljub Macesic (1954) is the founder and partner at the law office Macesic & Partners Law Office LLC since its establishment in 2002. During his long-standing practice as a lawyer and attorney, he worked in all areas of law related to business and commercial law. Following his internship at the District Commercial Court and practice as an in-house council, as an attorney he chose to specialize in commercial, maritime and transport law along with banking and finance, energy and similar areas of law.
During his work as a lawyer and attorney, he represented clients in all types of proceedings before courts, administrative and misdemeanour bodies as well as in arbitration proceedings, as nominated arbitrator. As an experienced lawyer, he dedicated himself to leading teams of attorneys and lawyers in the most demanding matters and to mentoring team members.
EDUCATION:
Graduated at the University of Rijeka Faculty of Law, as second in the first generation (1977)
Passed the Bar exam (1979)
Admitted to Croatian Bar Association (1984)
LANGUAGES:
English, Italian
PUBLICATIONS:
Author and co-author of numerous articles in the areas of Maritime Law, International Private Law, Dispute Resolution and Energy published in leading international publications: Ship Arrests in Practice, The International Comparative Legal Guide to: International Arbitration, CEE Legal Matters, Getting the Deal Through (Electricity Regulation, Gas Regulation, Oil Regulation), International Law Office – Energy & Natural Resources Newsletter, Multi-jurisdictional survey, IBA, Commercial Lease in Europe, Year in Review-International M&A and Joint Ventures.
MEMBERSHIPS:
Croatian Bar Association (CBA), Croatian Maritime Law Association, Croatian Insurance Law Association, International Bar Association (IBA), American Bar Association (ABA), Association of Trial Lawyers of America (ATLA) which is now American Association for Justice (AAJ) and International Business Law Consortium (IBLC)